What is Elementor?
Elementor is a powerful drag-and-drop page builder for WordPress. I know it since 2017 or so, but I did not pay much attention to it at that time.
In the last years I started to use Elementor more and more. Now, I think it is one of the best builders out there.
I think it's a great tool to build WordPress websites for clients.
Elementor can be used by beginner, intermediate or advanced web designers to design simple or complex websites for their clients.
Also, this can be a great choice for business owners which want to build a simple website for their company without hiring a web designer.
Why do I think Elementor is great for web designers?
This builder it is not hard to be used. With a lot of tutorials and a great documentation, you will have no problem to use Elementor for your web design projects.
Elementor is a reliable tool and offers almost anything you need to build an amazing website for your client or for your company.
One big advantage is that Elementor has a free version which it is great. I built websites only with the free version and the result was really good.
The real magic and big things come with Elementor Pro which it is the paid version.
Although Elementor Pro has many extra features, compared to Elementor free version, I will describe below only the best 5 features which I think that are simply fabulous.
1. Form Builder
The first thing I like it is the Elementor form builder and the ability to view, manage, and edit your form submissions.
This is a great feature indeed because you do not need to use other 3rd party plugins which do this stuff.
Elementor also offers the possibility to export form submissions to CSV format. This means you can import these to your CRM ( MailChimp, Brevo etc.).
All you have to do is to use Elementor Pro Form widget: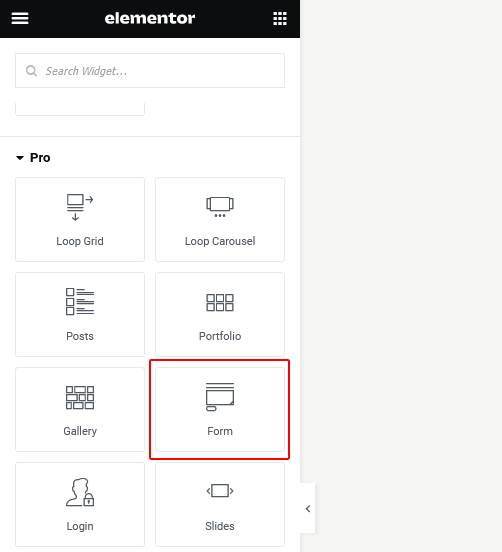 Then you can add the form fields by clicking on "Add Item" under Content > Form Fields:
Once the form is submitted, you can see the form submissions going to Elementor > Submissions:
You will notice the export button on top right.
2. Theme Builder
The second great feature of Elementor Pro is the Theme Builder (Tempates > Theme Builder).
This is a very powerful feature which allows you to build header or footer for the website.
What does this mean?
It means that you can define a header area ( logo, menu navigation ) here and this will apply to the whole website. So you will edit it only here and it will be updated for all the pages.
You can do the same for the footer.
And, even more, you can define here the single post or page look, the archive pages, search results pages or error 404 pages.
Also, you can create loop items, which are really powerful and can be used by adding the Loop Grid or Loop Carousel widgets to pages.
3. Custom CSS
Another great feature I really like is the ability to add custom CSS to any section, column, container, widget or page in Elementor.
This means that you can add some really coold efefcts to a button for example, by adding some CSS code.
This feature is found when you edit any of the above by going to Advanced > Custom CSS:
4. Elementor Pro Widgets
I have already mentioned a few widgets before, but Elementor Pro has many others which are really great and save a lot of time for you:
Using thse widgets you will easily add blog posts grid, testimonials, flip boxes, reviews and many more to your web pages.
5. Ecommerce Features
If you want to build a WooCommerce website for your client, then Elementor is a great choice!
It offers you total customization of the ecommerce pages ( cart, checkout, products pages, my account page and so on).
Conclusion
I could write more about many other things I like in Elementor Pro ( like custom fields integration or integrations with different CRM's), but the above are the ones which helped tremendously me and saved me a lot of time when I started to build WP sites with Elementor for my clients.