Introduction
Divi List Child Pages is an extension for Elegant Themes Divi theme which I have developed some time ago.
Disclosure: Some of the links in this post are 'affiliate links.' This means if you click on the link and purchase the item, I will receive an affiliate commission.
In the meantime I have worked on it and added new features. This extension adds a module to Divi builder which can create a list of child pages (subpages). With the new 2.0.0 version this list of subpages can have multiple levels and subpages can be sorted and ordered. Also the current page link (active link) can be highlighted (different color, font family, font style, color).
A list generated by this module can look like this:
Divi List Child Pages Module Settings
Once you activate the plugin, you will notice a new module:
Module settings can be found under the "Content" tab: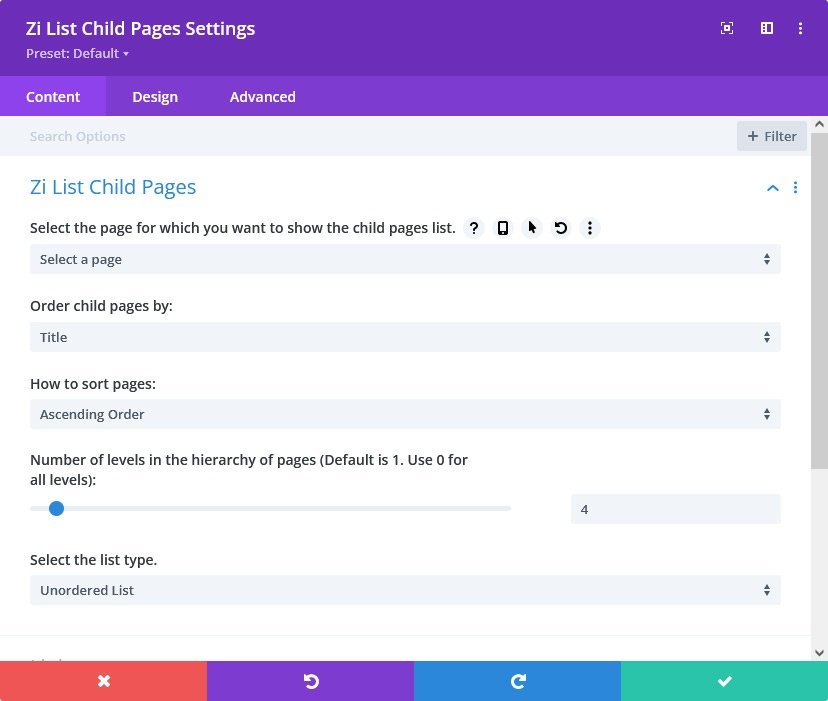 Select the page for which you want to show the child pages list. - choose the page for which you want to list the child pages.

Order child pages by:
-- Title
-- Date
-- ID
-- Order (the number which can be added in the field Page Attributes > Order when a page is edited)
-- Random
How to sort pages:
-- Ascending Order
-- Descending Order
Number of levels in the hierarchy of pages (Default is 1. Use 0 for all levels.) - this is a major feature added to version 2.0.0.

Select the list type:
-- Unordered List
-- Ordered List
Divi List Child Pages Module Design Options
Just like any other module, Divi List Child Pages has full design options.
To style the link for the current page (active link), click on the 4th tab:
Conclusion
So, if you were wondering how to generate a list of subpages of a page on Divi WordPress theme, this plugin is the answer.
If you think this plugin would be useful for your Divi website, you can buy it here. If you have any questions, suggestions, please let me know.